June 1, 2021
English and reading comprehension is a critical skill that every child needs to learn during their education. Without comprehension, reading, learning, and speaking can be a frustrating task for students. As a teacher, all children must learn the proper skills to understand what they are reading and truly digest the information. 
However, all children learn differently. Some students are auditory learners, whereas others need to see physical examples to fully grasp the concept in the lesson. Due to the wide range of learning styles, public schools and current educational institutions often do not provide the classroom with enough variety for every student to comprehend all topics. 
Without the resources needed to help every individual student, some children fall by the wayside – a dangerous side effect of universal learning that can impact their educational trajectory. 
One solution to helping individual students who may have different needs than what they can find in the classroom is using individual tutors. To better understand a difficult concept and comprehend a book, poem, or story, an English tutor can help students work through the learning blocks in their minds.
What comprises 'good' reading and comprehension?
You may have heard your teacher in school talk about 'good' reading vs. absent-minded scanning the words on the page without really taking in any of the information.
Studies have shown that good readers use various skills while analyzing content that helps them comprehend and retain the information on the page. 

Good readers use active processes and skills before, during, and after reading text.
Before reading, active readers will set goals for their assignment, analyze the sentence structure, organization of the text, and outline the text to see what they may be looking for in their analysis and comprehension.
During reading, good readers will ensure they understand each word without skipping words or sentences, as this can change the intended message of the passage. They will simultaneously calculate the meaning of the phrases, sentences, and paragraphs as a whole, while piecing together this information into a comprehensive concept. 
When they are reading, they will focus their attention on the sections of text related to their pre-set goals. For example, if they must look for similes in a body of text, they will focus on scanning for the words 'as' or 'like.' 
After reading, good readers will analyze what they have just read. They will summarize the major points of the text, tie these major events back to their pre-reading goals, and research any extra information if needed to clarify the content.
What are the advantages of improving English comprehension?
You may think you can skate by without having perfect reading or English comprehension. Like other school subjects, you may think this subject becomes obsolete as you get older and only applies to certain professions and businesses. However, English comprehension is a must-have skill for every member of society. 
Reading comprehension is a crucial part of English literacy, being an important aspect of education, business, and communication. Understanding what is written in front of you gives people the skills to succeed in any occupation. 
Children who properly develop their reading skills can read quicker, absorb information, memorize essential facts, and understand written information higher than those who have fallen behind in school.
Why should I use a tutor for English comprehension?
Tutoring still has a stigma of being for children who are not as smart as others or falling behind in class. However, many children have various learning styles which may not be met through traditional classroom settings. If you find your child is a tactile learner, requires multiple repetitions of the same concept, or enjoys writing down new concepts, hiring a tutor can help your child best retain information and improve reading comprehension. 
Tutoring provides students with individualized attention they cannot receive in a busy classroom. This helps children who feel like they aren't seen by the teacher or those who want even more school work get the attention they need.
What are the benefits of tutoring?
Tutoring programs help children learn how to study, analyze information, and improve reading comprehension to grasp concepts and stay current with their classwork.
Individual learning experience
By using a tutor, your child will not have to wait to get called on in class or spend time after school visiting each teacher to ask questions about the coursework. Instead of spending their time just trying to play catchup in class, tutors help the student fully understand the current concept in a timely manner.
One-on-one attention
Not only will a tutor help your child learn concepts quicker than in a traditional classroom setting, but the individual attention could be exactly what your child has needed all along. Some children can be easily distracted in class or may just need to ask one or two questions to understand a new topic – but in a crowded classroom, this can become virtually impossible.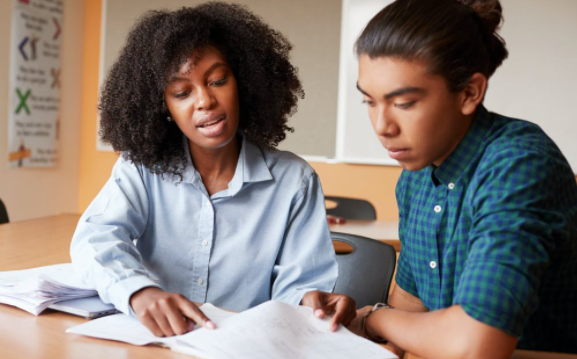 Giving your child the ability to work one-on-one with a professional lets them ask questions, discuss topics with the tutor, and be unafraid to say they are struggling with reading comprehension.
Improved academic scores
Tutoring helps your child prepare for their English exams, feel confident going into a test, and understand the test material before sitting down to take the exam. Your child's grades will subsequently improve from increasing their reading comprehension, bettering their confidence, and feeling ready to handle their current course load. 
Encourages self-directed learning
By teaching life skills and studying methods, tutoring can help your child take the initiative in their school work. You can help control the pace with tutoring to ensure your child is not moving too fast or too slow compared to the other kids in school. Your child will have a say in the speed of the learning program, ensuring he or she fully understands the concept before moving on to the next subject. 
Improves self-esteem
If you are constantly behind in school, your confidence will suffer. Classmates may make fun of you for always struggling, while you may feel embarrassed to constantly be asking questions. With tutoring, your child will never have to feel like they are the only one having trouble in school. 
Instead, having an individualized learning program will increase your child's confidence by providing them with the necessary resources to better their English comprehension.
Improves work habits
Nothing helps a lazy kid more than having a one-on-one session with a professional who demands attention, focus, and hard work from their student. To improve your child's work ethic and study habits, you can hire a tutor so they can't shy away or hide from adult direction to do their work and focus on the task at hand.
Positive work environment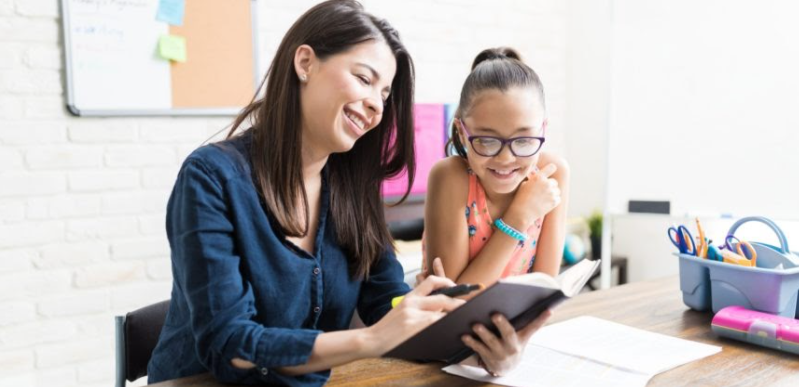 Working in loud classrooms or a busy library can cause students to become unfocused and not understand what they are supposed to be doing. By providing a calm, serene, and trusting environment, tutors can help make a space conducive to learning.
Encourages independence
Your child will learn the skills necessary to do schoolwork on their own. Once the child begins to understand how tutoring works, the tutor will often let the student do classwork independently, with the tutor just being there to supervise or if any questions are needed. This independence can help the student in all facets of life.
Trying A Tutor for Free!
Hiring a tutor can help your child fully understand a concept without having to feel embarrassed or shy to ask questions in a busy classroom. By providing the student with the necessary resources and tools to improve their English comprehension in a one-on-one setting, they will learn precious skills like independence, study methods, and self-directed learning to increase their overall aptitude.
Sign up for a free session with Tutor Portland today!